Buoy Ten 40 Pounder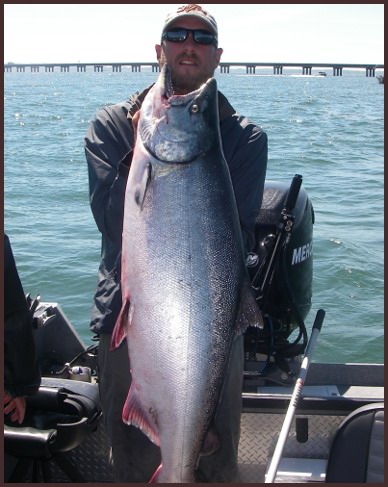 Congratulations to lucky angler Ken Cunningham of Jefferson, OR who boated this 40 pound upriver bright chinook salmon at Buoy 10 Monday afternoon. The trophy fish hit a herring fished near the bottom above the Astoria Megler Bridge. Ken also boated a 14 pound coho to round out his salmon limit for the day.
"I have fished with Sky in both Oregon and Alaska for several years and I can honestly say he has always put me on fish. The equipment is new and top of the line, from the boats down to the hooks. You won't find a harder working guide anywhere. Very knowledgeable and safety is always first priority. I highly recommend doing a trip with this top notch outfit."
"Dear Skylen,
My husband tells me that your services on his behalf were exceptional. Thank you."
Cynthia Mish – Ashland, OR
"Sky, Hey just wanted to thank you for an unforgettable fishing experience of a lifetime. The grandeur of the Columbia River bar combined with an awesome fishery was outstanding. Not only did you limit us out two days in a row… you also let us share in your crabbing adventure, allowing us to travel home with an abundance of salmon & dungeness crab. Your professional skill as a guide was especially noteworthy considering the fishing "zoo" we encountered. Hope to fish with you again and again."
Daniel Kreinheder – Molalla, OR
"Sky, You are one of the best fishing guides on the Columbia that I have ever been on the water with. Going out on the water with you is always a great trip. You always take great pride in getting us on the fish, and I have never heard you speak a bad word about any other guide out on the water. I enjoy your services so much here in Oregon, I am hoping to save a little and book an Alaska trip here in the next couple of years. Thank you for all the fishing adventures."
Jeremy Sween – Newberg, OR
"If your life is dull and passing you by, just pick up the phone and go fishing with Sky. Hard working Alaska, Oregon guide, just pick your spot he will make it happen."
John Bass – Fayetteville, AR
"Sky, We had a wonderful time – lot of laughs. I want to thank you for working hard to find fish for us. We are continuously reliving our experiences. You also made a great effort to show us the various streams and lakes. The additional chance to go Pike fishing was really a hoot. The food and housing were outstanding. Can't wait for June hogs later this month."
Ken Cunningham – Jefferson, OR
"Sky has a very good knowledge of the area and techniques, top quality gear, a passion for fishing, and he works very hard at catering the trip to your specific goals. We never felt that Sky was on the clock. Everyday he would go the extra mile to make our trip a positive experience. Sky made sure we put quality fish in the boat and that we had fun doing it. We are already planning our return trip! Thanks Sky."
Tim Federighi – San Diego, CA
"Sky, I want to thank you for the fine day on the river. Your knowledge of the fishery and constant work effort put us into fish while the other boats were waiting for something to happen. I've been on quite a few boats both private and chartered, and I really enjoyed this trip… great boat, good company, and fish in the boat… can't wait to do it all again."
Steve Brinlee – Independence, OR
"The boys and I went with Sky on a sturgeon trip and had a great time. We were in the fish the whole time and hooked a trophy of a lifetime. We are planning on doing the same trip with Sky every year. Thanks !"
Mark LaVelle – Springfield, OR
"Here are photos of my awesome fish. Pulling in that big boy happened so quickly I think I was asleep ! I didn't need much direction to get the fish to the boat and you netted him really quick.… he's a great fish, and tasty. He made a fantastic dinner last night and today I drop the rest off at the smoker. By the way, buck measured in at 39″. What a great guide ! I like the fact that it was still mostly dark… with the sun just peeking over the coast range. Great lighting for photos…and first thing out of the dock ! It was a lot of fun, and I hope to do some steelhead with you."
Stasi Adsitt – Happy Valley, OR
"I have been fishing with Sky three times in the last year. Every trip Sky's expertise has put fish in the boat when the other boats are coming up empty. I will definitely be booking another trip soon."
Lee Adsitt – Happy Valley, OR
"Hi Sky ! We want to thank you for the great fishing on the Columbia. Great guide job ! Excellent, in fact… what a blast ! A lot of heavy sturgeon; great boat handling job while we hauled in the "big hog"… we hope to be back… once our arms are rested !!! In our book, you are truly one of the greatest fishing guides of the NW."
David Anderson – Carson City, NV
"Sky, thanks for the greatest fishing experience of my life. You are the greatest, see you again."
Rick Emerson – Rochester, MN
"Sky, I wanted to thank you for 2 wonderful trips… When I fish with you I feel as if I am with a long time fishing buddy. Someone who fills in the blanks without overwhelming my experience. Someone who is a team mate in fish catching, complimenting my skills yet knowing my strengths. Other guides I have fished with all but tag the fish. You allowed me to get the big ones without the "Catch the damn fish" attitude. See you on the next trip."
Neil Erickson – Portland, OR
"Sky, just a quick note to say thank you for the great fishing trip ! I thought it wonderful that my daughter, son, wife, and myself all caught salmon to take home. You put in a herculean effort on our behalf ! We were all especially thrilled that my daughter Anna caught such a big salmon her first trip out ! Thanks for providing us with great gear, your expertise, your friendship, and good company on our Columbia River fishing trip. Let's plan on doing it again next year !"
Greg Shoffner & family – Bend, OR
"Sky, Thanks for the great oversize trip. My friends are still talking about it… We are already planning our trip for next year."
"Sky, Thanks for the pictures. We all had a great time as always. You're really good at what you do and you're always fun to fish with. Thanks."
Steve Johnson – Springfield, OR
"We had a great time… Sky was professional, funny, full of great stories and truly knew how to get us to the fish. We saw many boats around us and none seemed to be having the "luck" we were. And on that, I used to think it was luck to catch a fish…Now I think it's about skill and patience. Sky does many guided tours throughout all seasons in Oregon – even some in Alaska. He will surely see us again."
Angela Higgins – Portland, OR
"Hi Sky, I wanted to thank you again for accommodating my mom and son… They came back just gushing about what a good time they had, and I thoroughly enjoyed several great salmon dinners! My mom is excited to go out with you again, so I'm sure that you will be hearing from her, eliminating me as the middle-man!! Thank you again – you made one kid and one grandma very happy indeed."
Kathy Sloan – Portland, OR
"Every time we go out with Sky we come back to the dock with a smile on our faces. Sky works hard for his customers and is a blast to spend the day with. I caught my first sturgeon… a keeper… with Sky. My son landed a 30# salmon and my wife caught her first Chinook on a day with Sky. Each seat has a price, but the memories are priceless."
Alan Cunningham – Arlington, OR
"What an awesome time. Sky. DUDE! Jason and I Had such a great time with you on the trip. Easily the best charter experience I've had. You found us fish and for that I am thankful. Was a lot of fun. Friends of mine cannot believe the "fish stories" I have from the trip, especially that Coho Salmon with the 6 foot vertical. Most amazing thing I've seen. Period. Thanks, Sky"
Alex Lavolia – Suffolk, NY
"Wow! What a fishing trip. I decided to book a trip after a conference I was attending in Portland to try for some oversized sturgeon. I am all the way from Pennsylvania and was concerned about booking with someone online. But boy did I luck out. Sky knows his fishing and is truly committed to ensuring his clients get a good trip. Caught an 8-foot sturgeon and many smaller ones on my trip. It was a trip I will remember all my life. Sky has a nice boat and the right equipment to handle the big sturgeon. And he really knows the area and the tricks of the trade. I would recommend him to anyone that wants to fish Oregon."
Steve Deck – Lancaster, PA
"Sky, Thank you for a great day fishing !! I have sat on my deck looking at the guides come in and hold fish up. No one caught the quality of fish we did, due to your great attention to detail. I am really glad I was able to book with you. Great job and thank you."
© Copyright 2009 Sky's Guide Service. All Rights Reserved.