There are four major rivers in the Portland, Oregon area that a Portland steelhead fishing guide can choose from for his clients. The Columbia River and its tributaries, the Willamette, Clackamas, and Sandy are all within a half hour drive of Portland International Airport (PDX).
So you've booked your Portland steelhead fishing trip or your Portland steelhead fishing charter and you're wondering what to expect. As a Portland steelhead fishing guide, I can honestly say that at the end of the day, if you had fun then the mission has been accomplished.
1. Oregon steelhead fishing guides like waking up in the middle of the night to go steelhead fishing in sub-zero freezing temperatures. No pain no gain, right. Early bird gets the worm. Actually it's not that bad – average winter temperatures in the Portland, Oregon area are quite mild. In January for instance the average daily high is 47° F and the average daily low is 36° F.
We'll be posting new testimonials on our blog from time to time. Here are two recent comments from Kathy and Alan:
"Hi Sky,

I wanted to thank you again for accommodating my mom and son… They came back just gushing about what a good time they had, and I thoroughly enjoyed several great salmon dinners! My mom is excited to go out with you again, so I'm sure that you will be hearing from her, eliminating me as the middle-man!!

Thank you again – you made one kid and one grandma very happy indeed."

– Kathy Sloan, teacher – Catlin Gable, Portland, Oregon
"Every time we go out with Sky we come back to the dock with a smile on our faces. Sky works hard for his customers and is a blast to spend the day with. I caught my first sturgeon… a keeper… with Sky. My son landed a 30# salmon and my wife caught her first Chinook on a day with Sky. Each seat has a price, but the memories are priceless."

Alan Cunningham, teacher – Arlington High School, Arlington, Oregon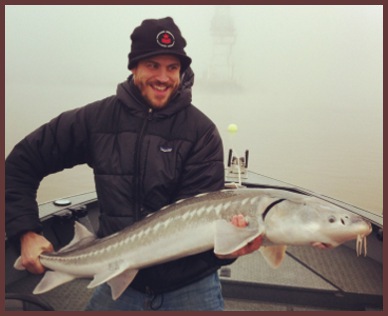 Oregon's Department of Fish & Wildlife announced Tuesday that last weekend's highly popular sturgeon "retention" season will close, effective immediately, on the lower Willamette River downstream from Willamette Falls, including the Multnomah Channel and the Gilbert River. This scuttles what fishery managers originally announced in January, a four-day retention season to include Feb. 17-18 and Feb. 24-25.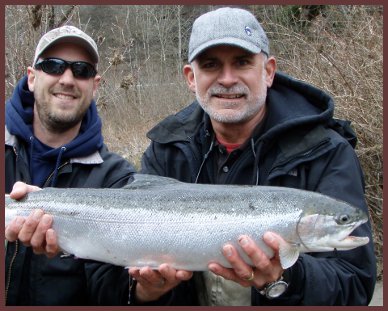 Sandy River winter steelhead fishing has been very productive since January's high water event. This keeper was taken in the lower Sandy River below Dabney State Park on a 1/8 oz. First Bite cerise & white jig fished under a West Coast float. While many anglers remember Thanksgiving as the traditional kick-off to winter steelhead season, the switch to a broodstock program has resulted in a later returning stock of fish. Success in February and March is also helped by a reduction in angler pressure as a number of people will switch their efforts over to the Columbia and Willamette Rivers as spring chinook salmon start to show up.