Archive for the 'Salmon Fishing' Category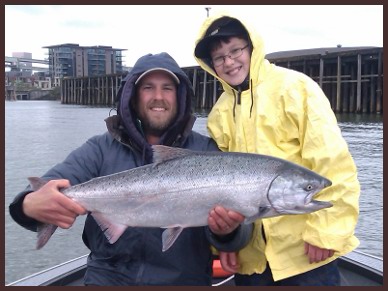 Guide Skylen Freet with 12 year old Dallas Ransom and his first ever salmon, a beautiful spring chinook caught on the Willamette River in downtown Portland on Easter Sunday. The first of many for a very promising angler. Congratulations Dallas !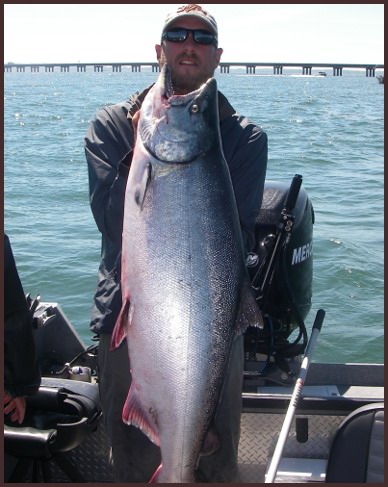 Congratulations to lucky angler Ken Cunningham of Jefferson, OR who boated this 40 pound upriver bright chinook salmon at Buoy 10 Monday afternoon. The trophy fish hit a herring fished near the bottom above the Astoria Megler Bridge. Ken also boated a 14 pound coho to round out his salmon limit for the day.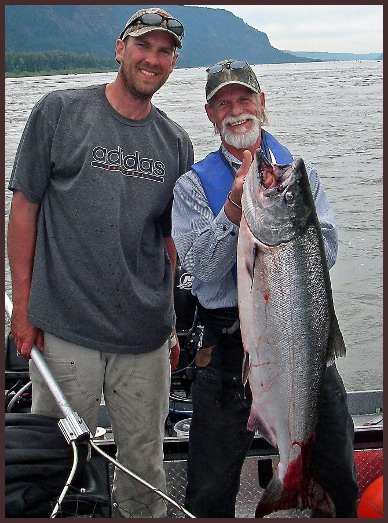 In the history of Columbia River salmon the legend of the June Hogs may be the most fascinating story of all. It's been estimated that the ancestral population of chinook salmon in the Columbia River was between 2 and 4 million fish. The largest of these chinook were the June Hogs, a strain of salmon so big they reportedly averaged between 70 and 80 pounds apiece with some specimens reaching upwards of 125 pounds.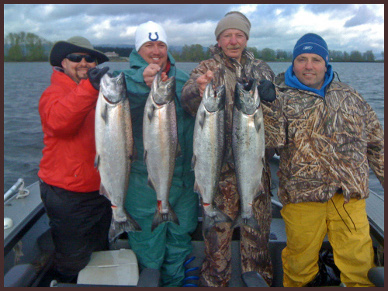 Spring chinook salmon fishing has been excellent so far this year on the Columbia River. Almost a half million Columbia upriver springers are predicted by Oregon's Dept. of Fish & Wildlife to return in 2010. The season started off in February with unseasonably warm weather and plenty of fish to go around. As the season heats up catch rates are expected to go even higher with the bulk of the run still yet to come.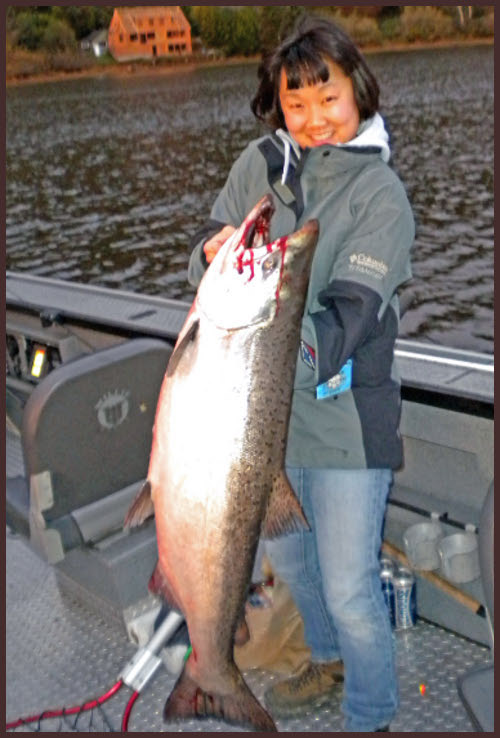 Congratulations to Stasi Adsitt of Happy Valley, OR who boated this beautiful fall chinook early Sunday morning in Tillamook Bay. The mother of three was able to join her husband Lee for a day of salmon fishing, which those of you with little ones know is an accomplishment in itself. Lee, who had already bagged a trophy bull elk in Montana with his buddy earlier this month, decided to bring his wife along this weekend for a shot at one of Tillamook's legendary fall chinook. Lee had mentioned to me when he booked the trip that Stasi had always been "lucky" when fishing. Little did I know…