Archive for the 'Stories' Category
We'll be posting new testimonials on our blog from time to time. Here are two recent comments from Kathy and Alan:
"Hi Sky,

I wanted to thank you again for accommodating my mom and son… They came back just gushing about what a good time they had, and I thoroughly enjoyed several great salmon dinners! My mom is excited to go out with you again, so I'm sure that you will be hearing from her, eliminating me as the middle-man!!

Thank you again – you made one kid and one grandma very happy indeed."

– Kathy Sloan, teacher – Catlin Gable, Portland, Oregon
"Every time we go out with Sky we come back to the dock with a smile on our faces. Sky works hard for his customers and is a blast to spend the day with. I caught my first sturgeon… a keeper… with Sky. My son landed a 30# salmon and my wife caught her first Chinook on a day with Sky. Each seat has a price, but the memories are priceless."

Alan Cunningham, teacher – Arlington High School, Arlington, Oregon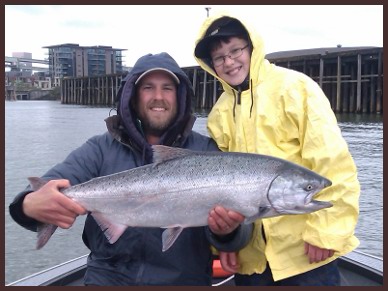 Guide Skylen Freet with 12 year old Dallas Ransom and his first ever salmon, a beautiful spring chinook caught on the Willamette River in downtown Portland on Easter Sunday. The first of many for a very promising angler. Congratulations Dallas !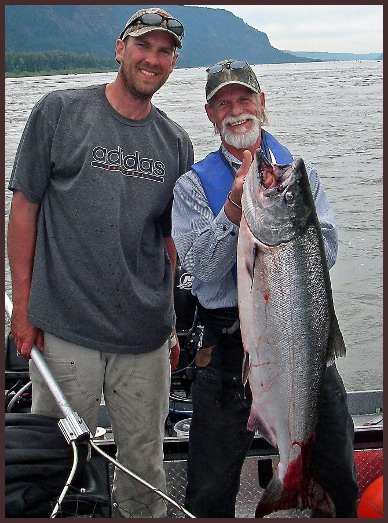 In the history of Columbia River salmon the legend of the June Hogs may be the most fascinating story of all. It's been estimated that the ancestral population of chinook salmon in the Columbia River was between 2 and 4 million fish. The largest of these chinook were the June Hogs, a strain of salmon so big they reportedly averaged between 70 and 80 pounds apiece with some specimens reaching upwards of 125 pounds.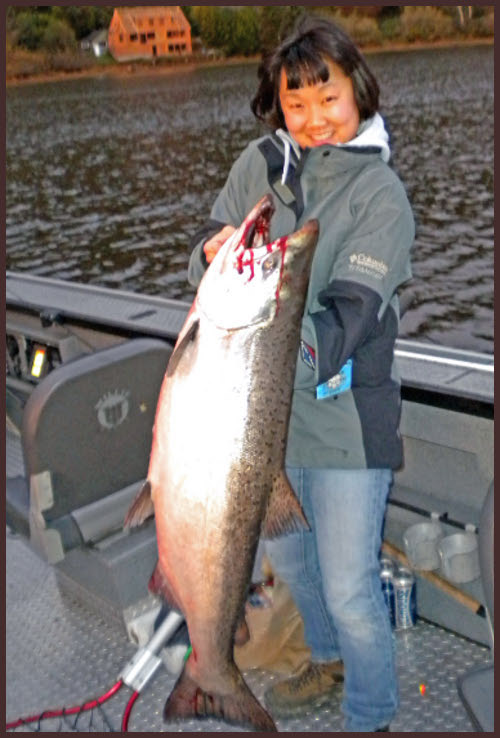 Congratulations to Stasi Adsitt of Happy Valley, OR who boated this beautiful fall chinook early Sunday morning in Tillamook Bay. The mother of three was able to join her husband Lee for a day of salmon fishing, which those of you with little ones know is an accomplishment in itself. Lee, who had already bagged a trophy bull elk in Montana with his buddy earlier this month, decided to bring his wife along this weekend for a shot at one of Tillamook's legendary fall chinook. Lee had mentioned to me when he booked the trip that Stasi had always been "lucky" when fishing. Little did I know…
We'll be posting new testimonials on our blog from time to time. Here are two recent comments from Steve and Mark:
"Sky, I want to thank you for the fine day on the river. Your knowledge of the fishery and constant work effort put us into fish while the other boats were waiting for something to happen. I've been on quite a few boats both private and chartered, and I really enjoyed this trip..great boat, good company, and fish in the boat.. .can't wait to do it all again."

– Steve Brinlee – Independence Oregon
"The boys and I went with Sky on a sturgeon trip and had a great time. We were in the fish the whole time and hooked a trophy of a lifetime. We are planning on doing the same trip with Sky every year. Thanks!"

– Mark LaVelle – Springfield, Oregon